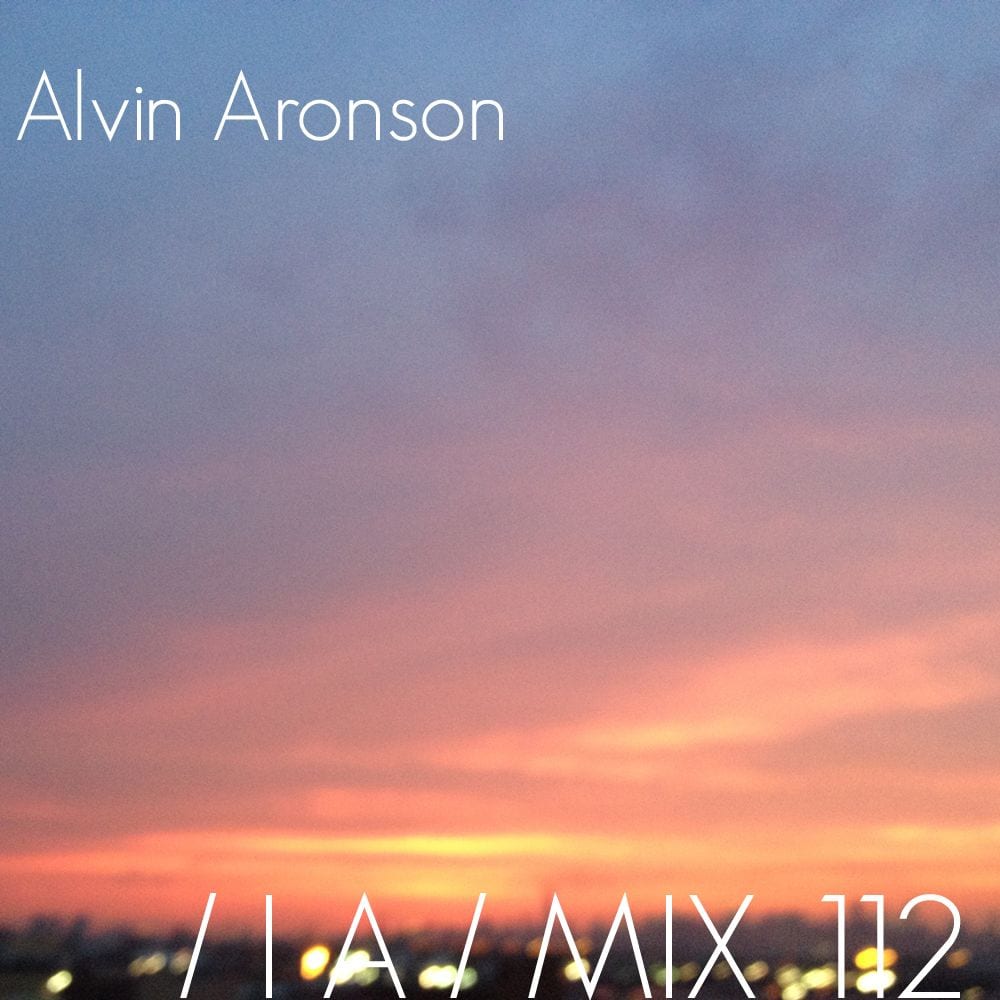 1. Alvin Aronson - Blue Hour on the Train
2. Alvin Aronson - Untitled (feat. Galcher Lustwerk)
3. Alvin Aronson - Mat
4. Alvin Aronson - Untitled (feat. Morgan Louis)
5. Alvin Aronson - 3ih
6. Alvin Aronson - Fog City
7. Alvin Aronson - Untitled
8. Alvin Aronson - Untitled (feat. Galcher Lustwerk)
9. Alvin Aronson - Holo
10. Alvin Aronson - Untitled (feat. DJ Richard)
11. Alvin Aronson - Breezy Mesh (feat. Galcher Lustwerk)
12. Alvin Aronson - Untitled
1. Alvin Aronson – Blue Hour on the Train
2. Alvin Aronson – Untitled (feat. Galcher Lustwerk)
3. Alvin Aronson – Mat
4. Alvin Aronson – Untitled (feat. Morgan Louis)
5. Alvin Aronson – 3ih
6. Alvin Aronson – Fog City
7. Alvin Aronson – Untitled
8. Alvin Aronson – Untitled (feat. Galcher Lustwerk)
9. Alvin Aronson – Holo
10. Alvin Aronson – Untitled (feat. DJ Richard)
11. Alvin Aronson – Breezy Mesh (feat. Galcher Lustwerk)
12. Alvin Aronson – Untitled
Alvin Aronson is a DJ and producer from Brooklyn, New York. His music is focused on the deeper traits of ambient house and techno, similar to the likes of Kassem Mosse and the Workshop back catalogue. Despite not having any current physical releases, we were so impressed with what we heard on his Soundcloud page, we immediately asked Alvin to record a mix for us of unreleased material and collaborations recorded in his studio over the past year. In the interview below we discuss his interest in electronic music as well as his involvement in New York's electronic music community.
Hi Alvin thanks for recording your mix for Inverted Audio. Can you please introduce yourself and tell us what you've been up to recently?
Hey, thanks for inviting me to contribute this mix. I'm a musician & DJ based in NYC. I've just been enjoying the last few beautiful days of summer here.
Tell us about the mix you have made for us. It's a mixture of live improvised music and pre-recorded tracks right?
Yeah, the mix is a combination of material recorded with collaborators in my studio and live versions of my own tracks. My intention was to create a diverse mix of rough & unreleased material to capture the feeling of my live set.
Also where was the mix cover photo taken?
It was taken on the roof of my former studio in Brooklyn last summer.
What was your first memory of music that started to guide you towards making music?
Simply hearing pop music on the radio growing up, I remember being very curious about the sounds I heard. I had no idea what any of these sounds were, why or how they sounded the way it did.
What's your musical heritage? When did you get interested in electronic music, from listening to producing, what stemmed your whole relationship with music?
Prior to getting into dance music my interest in electronic music was mostly trained on earlier minimalist composers like Laurie Spiegel, also jazz artists like Pharoah Sanders & Alice Coltrane are still influential on my work. I didn't get very serious about dance music until I went to university in the mid 00s and started DJing in clubs.
For me you're firmly rooted in the realms of deep house and acid techno, who are your heroes that you look up to?
Of course there are the American classics. A lot of New Jersey and Chicago house artists. Drexciya is also a big influence. Move D as well. He's someone with such a long and diverse oeuvre.
Is there a piece of music that you would consider the acme of what you want your music to be?
"I Am Sitting in a Room" by Alvin Lucier has always struck me as such a brave simple piece, with so much dimensionality.
Do you have any visual arts influences on your work? Are there any visual artists that you feel parallel what you would like to do with sound?
Lately I've been inspired by some photos I found of a building called "La Maison de La Celle-Saint-Cloud" by Jean Pierre Raynaud.
You're also a product designer; tell me about your interest in design, where you studied and now work and what your ideal aesthetic is?
I studied design in a school called RISD, in Providence, Rhode Island. In the years since university I've paid my bills doing a variety of design work, mostly graphic & sound design. While I don't practice product design as much these days, I still end up doing some design work when I need to modify or create a new instrument for my studio. Most of what I do lands in the category of minimalism.
Are you part of a collective or group of friends who jam and make electronic music? What's the electronic community like in Brooklyn?
A few of the tracks in the mix were recorded with close friends of mine: Galcher Lustwerk, Morgan Louis and DJ Richard all from White Material Records. I met them years ago at university. I would say the electronic music scene in New York is very vibrant at the moment. There are a lot of new labels emerging and I can go out almost any night and expect to hear good music.
You're based in Brooklyn, New York. Over the past year this area of New York has had quite a bit of press recently highlighting the process of gentrification developing areas where warehouse parties take place. Have you noticed a difference over the past year?
Yeah I think the perception of electronic music in the US has shifted quite a bit in recent years. I think this shift paired with the growing population of young people in industrial neighborhoods in BK has made for a successful new scene here.
Where do you source new music?
Despite some closing or going online in the past few years, there are still good record stores in NYC: A1, Heaven Street, Co-op 87, Halcyon, etc. And then there's the internet.
What is typically the first thing that you are drawn to when you find a new piece of music that you enjoy?
A good melody.
Do you have a philosophy on sound?
My parents were horticulturists and growing up I spent a lot of time in greenhouses. I think this had an influence the way I develop new sounds. For example, I have a particular digital synthesizer that I use often, when I create a synthesizer patch or a melodic sequence I'll apply random mutations to all the parameters in a patch. With each mutation, I'll trim the parts that I'm not satisfied with and continue to evolve until I find the right sound, melody, or whatever. This is a very organic, almost Darwinian way of growing sound with an instrument. I don't know if that makes me a musical naturalist.
How do you typically start writing a piece of music?
I usually approach an instrument with an idea in mind; to play a bell with the wrong side of the mallet, or a unique way to trigger a drum sound for example. I have hundreds of experiments like this recorded. Sometimes they aren't so interesting and sometimes something unexpected will happen that really works. If one sound isn't enough on its own, I will layer others.
Tell me about your studio, it sounds like you have a few vintage analog instruments, what's the story behind the studio?
I recently moved to a new studio and decided to simplify my setup. It's based around a mixing console from 1978, a modular synth and a couple of other pieces of gear. My former studio was set up more for live recording sessions with others, but required too many hands to operate. I got rid of most of the synths and drum machines in favor of something compact, ergonomic and more versatile.
When you perform out are you DJing or playing live? What do you prefer to do?
Most of the time I'm DJing. Live sets are a relatively new thing for me.
It's clear that you're at the start of your electronic music career and we're really glad that you got in contact with us. What relationships have you forged so far with record labels? Can we expect any vinyl releases of your music out soon?
Expect a 12" on the label White Material soon.
Have you ventured across the Atlantic to London or Europe to experience electronic music culture? If yes what did you think, if no why not and when are you planning a trip?
Not yet London but I've been to Germany several times. The general appreciation of music there is impressive and each city has its distinct style.
Finally any words of wisdom / warning?
"The only rule is work."