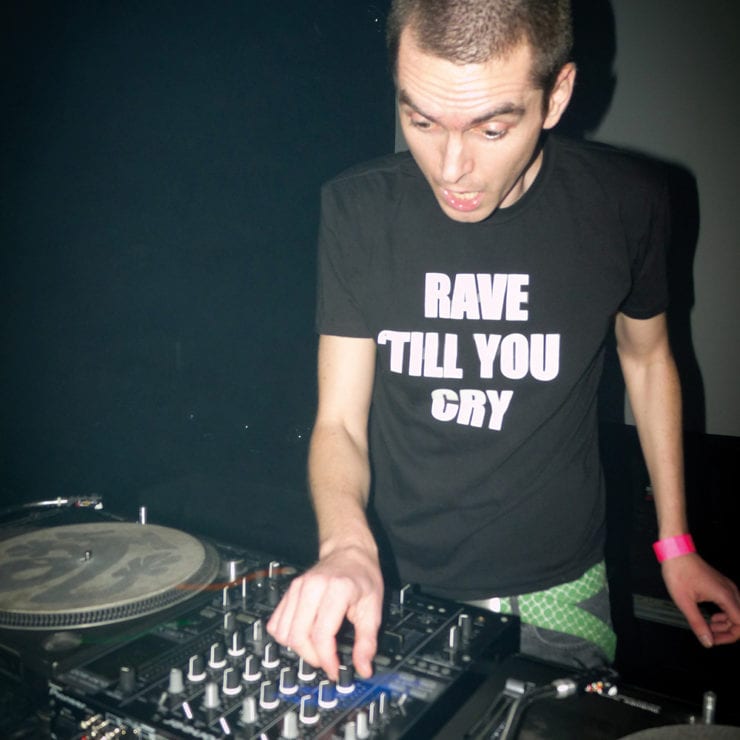 "At 18 tracks long, with not one lasting beyond four
minutes, it's a joyous no let up journey through
the annals of rave history"
When it comes to Rephlex era braindance you can guarantee that a dose of good humour will accompany the music. And who better to appear after a decade hiatus to cheer us all up than Bogdan Raczynski with a raft load of excellent japes. After all – this is the man who incorporated the phrase "it's time to firm this buttocks with some mathematics" into one of his tracks.
As with his music, Raczynski is brimming with ideas – from the 63 track 'micro rave' mix for XLR8R that's packed to the gills with hazy breakcore memories to the current crowd sourcing of fan's voices where you are encouraged to phone a number and leave a message for inclusion in a new project. Not to mention his numerous interview piss takes – a favourite being where he writes a 'fill the gaps' review for the journalist explaining "I'm as tired of writing these damn press releases as you are of reading them".
Raczynski offers sage life advice too: "Stop being so damned serious. Love is beautiful. Everything about life is amazing, even the fights and arguments and cancers and broken limbs. I'm no longer afraid of loving and I no longer fear not living. I've seen amazing things. I've been fortunate. I have beautiful people in my life. There's nothing else I can ask for."
And he's definitely lived a bit – not least in countless sweaty rave pits "going absolutely fucking mental on the energy steaming off of the dancefloor" whilst also spending time homeless in Japan where, naturally, he went "spelunking subways".
And what did you expect? This is the time of Rephlex where releases often sounded like they were produced in a couple of minutes and were all the better for it. Raczynski himself claims to make music pretty quickly:
"I don't want people to focus on the technique of the music; I want them to just enjoy the music very immediately. It's like food or anything else sensually pleasurable–the more you think about it or are taken back into reality, the less sensual or pleasurable that thing is."
Further to this he explains he's "an absolute technical dunce. I'd fail any music-technology tests. I don't explore techniques or technology. But I can rock the rave like you wouldn't believe." And whilst it feels like he's underplaying his technical hand a touch, it's that final sentence that tells you all you need to know about "Rave Till You Cry" – a collection of "Rephlex era" tracks culled from a distant past.
At 18 tracks long, with not one lasting beyond four minutes, it's a joyous no let up journey through the annals of rave history. Much is placed firmly in the Raczynski territory we know and love – genius junglist breakcore and curiously eccentric ear-worm melodies.
Tracks like "329 15h" positively fizz with creativity, irregular percussive explosions and Japanese vocal samples. "309 14ae2" transports you straight into the depths of a 4am dungeon – spewing up screaming bass filth, pneumatic drums and gloriously destabilising rhythms whilst "220 s2c" continues the theme by raining murderous synth stabs across a 165bpm 4/4 with a ferocity guaranteed to confuse even the most hardened raver.
It's safe to say, fans of Raczynski, Aphex and all things Rephlex will be delighted with "Rave Til You Cry" and so are we. Check out our exclusive premiere below of "220 sd3" – an all too brief rinse out of boisterous bass squelch and razor sharp rave stabs.
'Rave 'Till You Cry' is scheduled for release in double LP, CD and digital formats 5 April 2019. Order a copy here. 
TRACKLIST
1. 156 s2n
2. 134 32iii
3. 318 22t7
4. 220 s3d
5. 329 15h
6. 220 s1c
7. 307 33m15
8. 332 23t422
9. 309 14ae2
10. 213 213r
11. 220 s2c
12. 356 34h12
13. 306 24n812
14. 306 41dr
15. 210 31c22
16. 220 s5d
17. 355 44ir
18. 204 fr
Discover more about Bogdam Raczynski and Disciples on Inverted Audio.